"Il Chierico" rises on an area of about 20 hectares in Borgo Miriam (Offida), "Rosso Piceno Superiore" wine's zone.
His position (20 km from Ascoli Piceno and about 15 from the sea of "San Benedetto del Tronto - Grottamare) a wide survey offers the visitor on the valleys with particular attention to the Calanchi ( element characteristic of the landscape consists in the resistant and inclined so-called " Calanchi ", formed for erosion of waters in the argillaceous mioplioceniche rocks poorly to the erosion). Clays laminated to the base of the spur of sand and gravel; in the Marnose clays -- frontal erosion passage point. (from the superior layer water infiltrates in the cracks of the ground opening and cutting of the true and real slices of ground), to the tops of the Vettore mountain, of the "Gran Sasso" and the Maiella.
It is possible to visit the very beautiful rich historical historical monuments and ancient local and rural traditions (Offida, Ascoli Piceno, Acquaviva Picena, Ripatransone, etc...) centers at few minutes of car.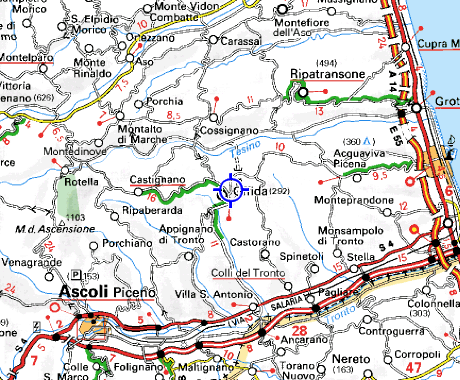 How to reach:
Arrived once to Offida take for San Benedetto del Tronto up to reach the fraction Borgo Miriam;
turn in Castorano direction and after about 2 km, on the right, the system of signs of our "Agriturismo il Chierico" will be visible:
turn right and continue for other 700 m.